Links
Caroline's Record Label & Publisher
-
www.touchwoodproductions.com
Caroline's Label Mates
-
Dane Sharp
&
Jessica Townsend
Caroline's Sponsor
:
www.moretonbay.qld.gov.au
A personal favourite Caroline would like to share with you:
Good News Unlimited
Wallpaper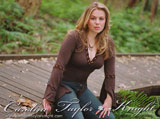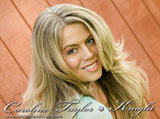 800x600
|
1024x768
800x600
|
1024x768
Thanks
Caroline would like to sincerely thank:
Duncan Wood: my wonderful husband and amazing producer, engineer, arranger, keyboard player, co-writer, musical director and best friend, for your love, belief, awesome talent and for producing an album I can be proud of. I love you and I love working with you.
Dane Sharp and Jessica Townsend: my awesome label mates! I can't think of two more fantastic people to be sharing this journey with - I love you both!
Mum & Dad: for your love and support. I love you very much.
Ben & Leah Jones: for your love. Love you.
Nanna: for being my unofficial promotion campaign manager and your love and support.
Greg Mackay & Jeannie Ashurst: for your wonderful backing vocals on my album and live (and your great drumming Greg), your love, friendship and support. You're beautiful people to be sharing my dream with.
Darren Scott, Don Macarthur, Micah Reimers and Arno Cassidy/Cvitan Barac for being a fantastic band and wonderful people too. So glad to have you all on board.
Russell Stork: for your great bass playing in my past live shows - I worked with you in covers gigs through to ANZ Stadium and it's always a pleasure. Thank you for your support, friendship and for being a truly wonderful human being. (Also a big thank you to Sue, Jess and Gilly - your beautiful family).
Damon Fealy: for your fantastic guitar playing on Fall for Me.
Paul Burton: for your guitar on "Loving You".
Allan Cameron: for your lovely acoustic guitar on "Venom" and cool slide guitar on "I Don't Want a Lover", your work on my earlier demos and for putting together my band for ANZ Stadium and playing with me (along with Duncan, Russell & Don). You're such a talent.
Dave Neil: for your fantastic mastering work on my album (and previous EP), advice and support.
Don Morrison: for your friendship, support and for playing ANZ Stadium with me (along with Duncan, Russell & Allan).
Stephen Pooley: thank you for your recording and production work on my EP and for guiding me gently through the process when I was new to it – I really enjoyed working with you. Also thanks for a great co-write on Heaven Everyday.
Aleta King: for your beautiful arrangements and piano playing on "I Can Still See Your Face", for being MD for my Daryl Braithwaite support back in the beginning and for your friendship. (Also a big thanks to Darren Scott and Korey Dowling for playing for me for my Daryl Braithwaite support)
Byronie Hawkins, Mathew Gillet, Dan Williams and Alison Harbottle for your lovely strings on "I Can Still See Your Face"
Australia Post: for your support and providing the wonderful opportunity for me to sing at the Queen Street GPO and ANZ Stadium.
Moreton Bay Regional Council (especially Richard Baberowski): for your assistance and support as part of your ongoing commitment to improving the lifestyle of residents. It is very much appreciated and it was a real pleasure to perform at your Arts & Cultural Forum.
John Kenny and Sebastian Chase: thank you for both so much for your advice, guidance and encouragement along the way.
Peter Meij: for your assistance and support of local talent (and lovely comments about Fall for Me) - your encouragement and enthusiasm has been very much appreciated.
All the radio stations and DJs that have and continue to support me: thanks so much for your assistance and support of my music and for helping to make my dreams come true. I really appreciate you guys.
Joe Andre: for encouraging me to sing my own material and for believing in me.
Jo Laurance: for being a wonderful person and voice coach.
Peter Williams: for taking our engagement and wedding photos (they're gorgeous!), and for all my "Fall for Me" promo shots and your support.
Damian Bradshaw: for your fantastic graphic art work on my "Fall for Me" album cover.
Stu Olds: for your wonderful work on my website, your patience and creativity and for being a joy to work with. I love your work!
Des Ford: for inspiring and encouraging me every time I see you and reminding me what's important.
Greg Coulson: for your friendship and encouragement.
All my wonderful family and friends - for your love, encouragement and support - you mean the world to me. Thank you also to everyone who has ever supported, helped, encouraged or believed in me. You have no idea how much it has meant to me.